What: Software as a Service (SaaS)
Who: zencontrol Pty Ltd, is a manufacturer of lighting, and control products.
The Team:
1x Designer (my role)
1x Company founder
5x Software engineers
2x Firmware engineer
Scope of work:
Product development
Research
Prototyping
User testing
Front end
Icon library
Brand guides
Tools:
Whiteboard & markers
Xmind
Adobe XD
Axure RP
Illustrator
Photoshop
The challenge
How might we create an online platform to meet the needs of an increasingly diverse and mobile market, demanding live, on-the-spot updates and changes for commercial building management.
User insights
As a long-time manufacturer in the lighting industry, zencontrol had made connections from all stages of a building's life and were able to engage in talks with three prominent user groups:
Installers:
Electricians and engineers no longer want to be stuck to one desktop computer, with a set amount of installed programs, to do their job.
Suppliers/integrators:
Often charged with after-development maintenance integrators were asking for a better solution than constant on-site visits.
Building managers:
Building users are often left with old, complicated, and highly technical solutions tailored to installers' needs and not their own.
From the data we created user-flows to better understand each user-groups needs.
Something familiar
Along with standard competitive research, we also spent a lot of time looking into solutions not usually associated with existing industry tools. From that three base product ideas were developed that were both familiar, yet solves the users' problems in a new way.
All are browser-based and stored in the Cloud so the user isn't locked into pre-installed software on a set PC.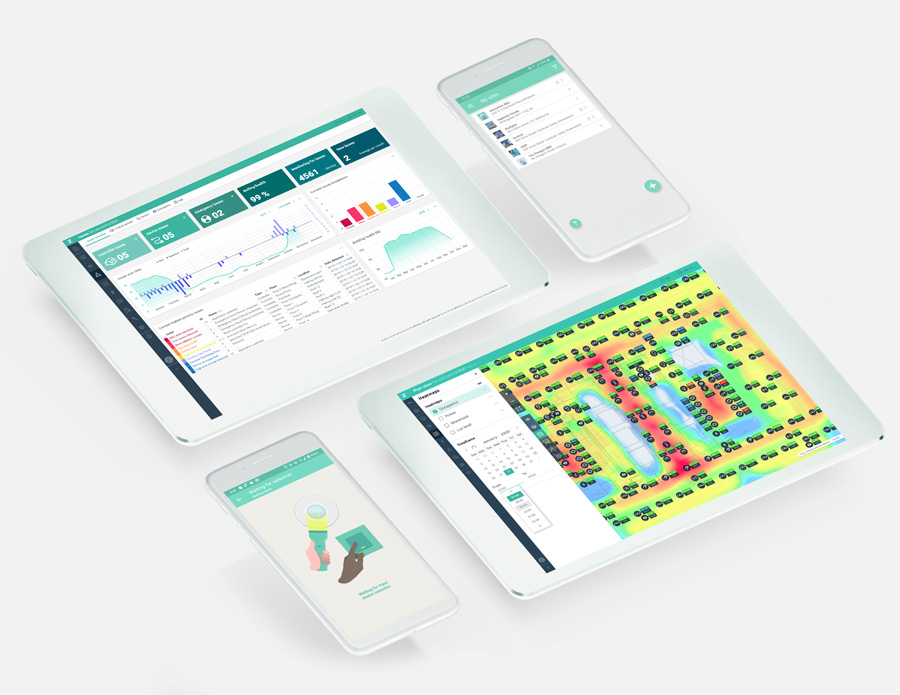 Grid view
A table overview of all device data from the building (lights, sensors, switches etc).
Base concept: Microsoft XL and Word tables
Plan view
A floorplan overview, with controls, of all devices.
Base concept: Google maps and construction floorplans

Analytics
A graphical overview of device all data: status, power-use, and issues.
Base concept: Data dashboards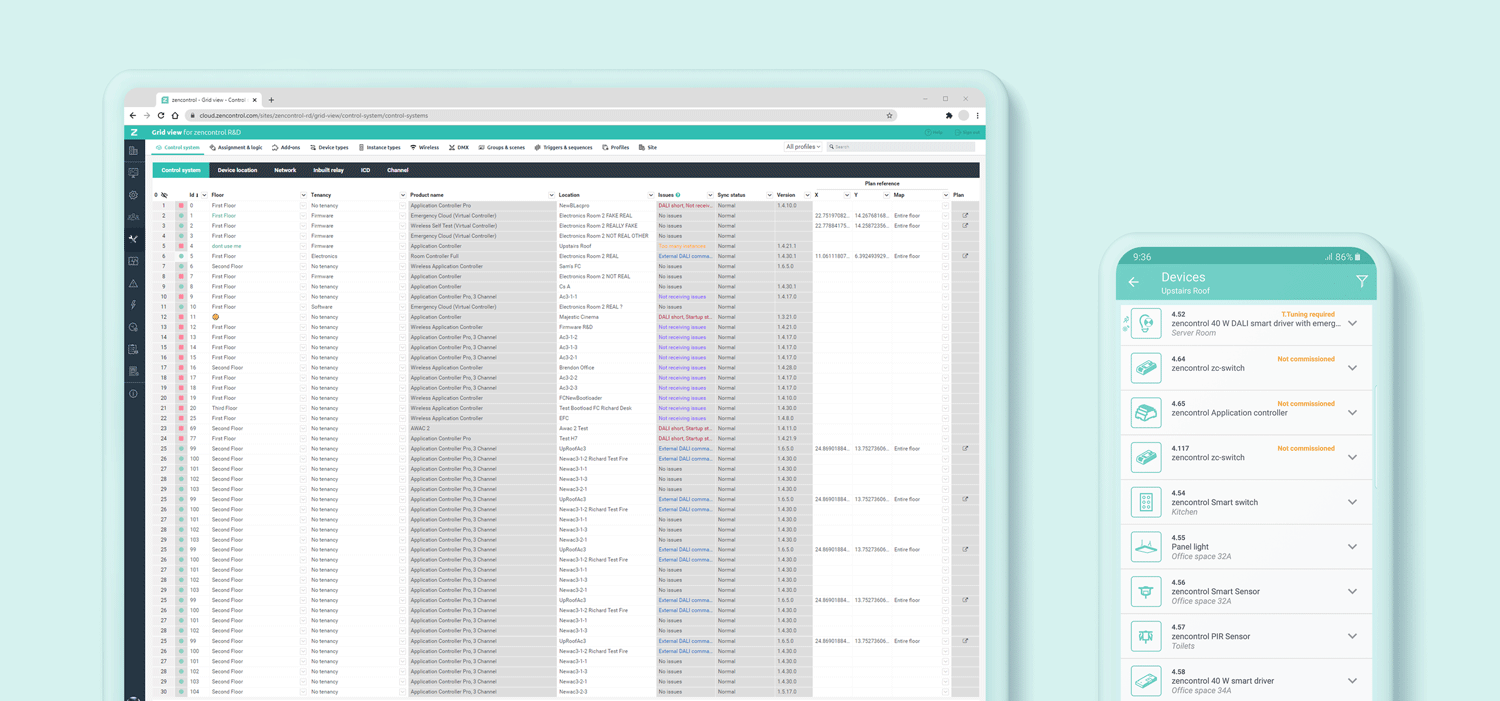 Grid view
The "zencontrol Cloud" released Grid view beta, a mobile app and web application, as the first available feature. Testing of Grid view was done alongside the development of the two other offers: Plan view and Analytics.
Grid view dramatically decreased building commissioning time by allowing the user to cut and paste settings, as one would in an xl doc across rooms, floors, or sites. Additionally, users can generate reports for emergency and regular lighting to use for compliance.
Each circle represents a device in the building, and its current status.
Development of this feature was less straightforward and required more than one round of prototyping. The first prototype, in Axure RP, reached high fidelity, with high interactivity. We ran testing with all three user groups and it led us to re-evaluate and go back to the drawing board.
Plan view provides a new way to visualize and interact with the building using a familiar setting, plan drawings. Device information is available by clicking/tapping on device icons. Device status and IDs are visible through colour coding. Rooms can be drawn up to create groups of lights that have the same schedule or settings.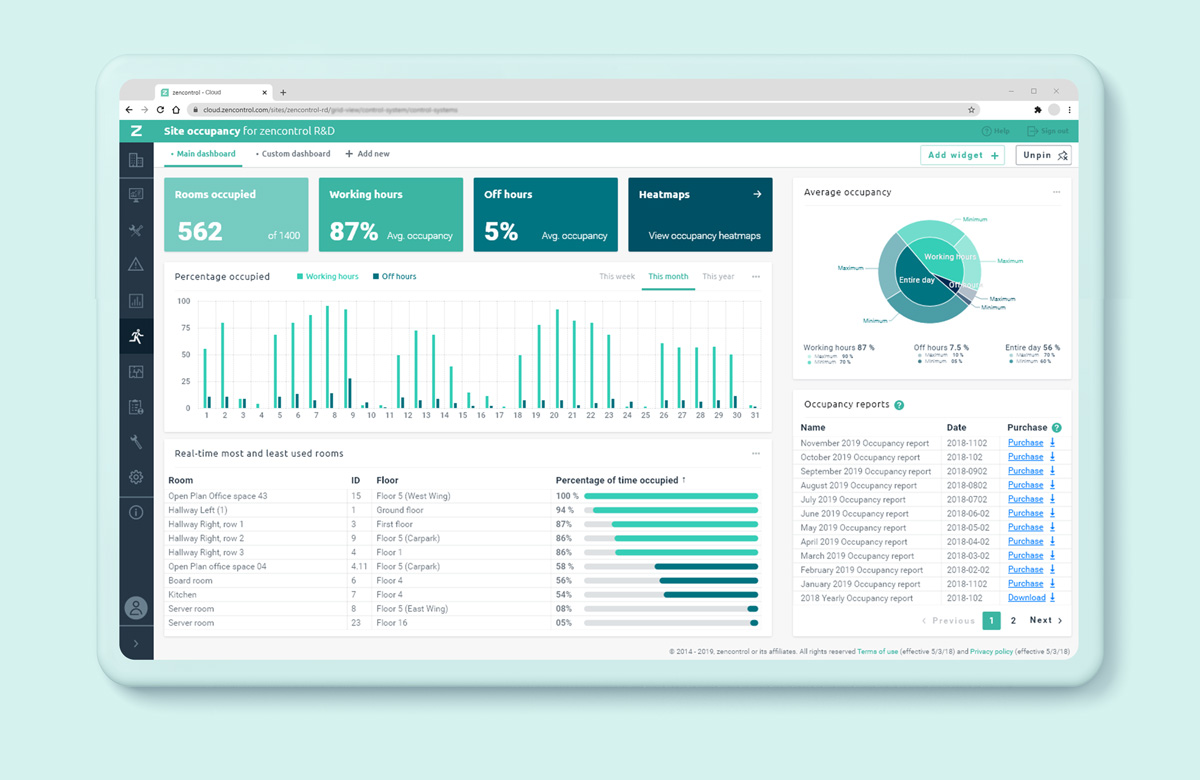 Analytics
This feature is all about analyzing, storing, and transforming data to help users understand the performance of their buildings.
Testing and development of analytics focused on not just being a data dump but what a user wants to do with their data, allowing for customized dashboards.
The Clouds Analytics feature offers: Occupancy, power, issues and comparison overviews.
Visit the Play store to see the mobile apps here.
For more information on the Cloud apps see zencontrol.com